By Dr. Tariq Ullah

Kumrat and surrounding tourist spots like Jaaz Banda Katori lake and Badgoai pass are literally like heaven on earth. Anyone visiting Kumrat comes across green mountains, lush green meadows, clean rivers, waterfalls, lakes, and majestic glaciers. This beautiful area remained unexplored but thanks to social media it is gradually becoming a national sensation as tales of its beauty are reverberating across Pakistan. Kumrat is going to become a tourism hub in the years ahead, providing a potential source of revenue for the government, as hoteling and local transport keep growing and contributing to the improvement in the livelihoods of the local people.
This abode of heavenly beauty can be accessed by road from Chukiatan, about two kilometers short of Dir city, where both road and river go together meandering through deep gorges and steep valleys. From kalkot upward, this narrow valley becomes open and wide with green fields and a panoramic view. The complete natural harmony is consistently been hemmed in by the melodious sound of gushing water down the stream. In Kumrat rivers give up their ferociousness, their roaring sounds subside, and get divided into different branches passing underneath tall green trees. Kumrat is the main town full of life and a range of activities. Though the road from Kumrat onward is bumpy, Kumrat offers a variety of facilities that are hard to expect or find at such a place. A range of hotels have been built in a few years and almost all kinds of dishes are available. From Kumrat onward, there is a famous waterfall known as Kala Pani which is frequented by tourists. Though hotels are available most people love to stay in tents. With festive mode infused by such a natural and serene environment, a bonfire at night and cooking and eating trout fish is almost a must activity that makes the trip to Kumrat one of the most cherishable experiences in life.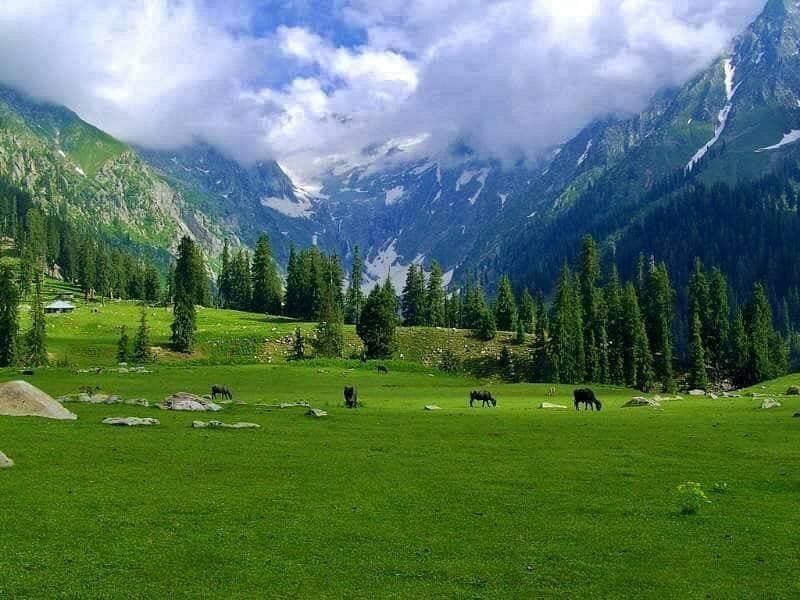 Unlike many other tourist destinations, local people in Kumrat are very hospitable. The residents are as natural as the place itself, perfectly attuned with nature, speaking the Kohistani language but fluent enough in Pashto as well. They are exceptionally hospitable. Commercialism has not yet crept into their ways of dealing with tourists. They take tourists for guests and try to take care of them, even when their sources of livelihood are limited, mostly farming, cattle breeding, and wood cutting.
Though Kumrat is the most attractive destination for tourists, there are many more places to explore as well. Situated at a height of 3100 meters from sea level, Jazz Banda is the most attractive meadow. It is not accessible by road, but the two-hour hike in the dense mountains has its enticing charm. The track is surrounded by tall trees and green grasses. While on way to Jazz Banda, one can come across hospitable locals who will eagerly serve you fresh water and strong black tea skillfully prepared in pure milk of goats and sheep. After a hike of two hours, you reach the top of the Jazz Banda which is a plain meadow of about two kilometers. Such is the beauty and charms of this place that fatigue is pleasantly mutated into soothing peace and stimulating spectacles of pure nature. It has unique weather where it would be raining for some time and then sunshine for the next few minutes. The hide-and-seek would compel you to hold your umbrella. The plain grounds are surrounded by even taller mountains and snowy peaks from all sides. A unique feature of this earthly paradise is that stream of water is passing through the mid of Jazz Banda which transforms into a powerful waterfall at the extreme end. To have a view of this waterfall, one would have to go down the hill from Jazz Banda for almost an hour. Once you reach down there, the place that
you see just beggars all descriptions: full of wonders and enchanting aura as if it is inhabited by fairies and gens. The sound of wind in this narrow gorge and the mighty splashes of the waterfall pouring down, and the atmosphere of perfect peace instill deep feelings of awe as if one is in the strange land of Coleridge's famous poem Kubla Khan. Hardly anyone would have the courage to spend the night here. Though Jazz Banda is unparalleled in beauty, still if there can be any comparison with it, it can be Shogran in Naran Valley. With a decent kind of infrastructure, it can be a busier place than Shogran in the coming years.
Atop Jazz Banda, at a hike of another one and half hours, is a famous lake locally known as Katore lake meaning a bowl-shaped lake, quite true to its physical shape. It is the highest explored lake and destination in Kumrat Valley situated at the juncture of Chitral and Dir with a height of 11500 feet above sea level. It is a glacial lake almost the size of lake Saif-ul-Maluk though less visited and harder to access. The only difference between the two lakes is that Saif-ul- Maluk is more famous, and more romanticized through folk stories and more frequent tourist visits. No such fairy tales are associated with Katori lake but its charm and beauty are no less magical and arresting than Saif-ul-Maluk.
Badgio pass connecting Kalam and Kumrat is yet another famous destination. It is a kind of mini plateau known as Dasthi Lila, roughly translated as fairy desert. Both Upper Dir and Lower Dir have plenty of such destinations. The entire Usherai Valley provides eye-catching spots like Lamchar waterfall and Saidgai Lake. Barawal Valley is another such place. Other tourist destinations are also included the Shahi top, Benshai, Kalpani top, Laram top, and Tajaka top.
Every region has its importance and blessings. Dir is a tourist heaven and investment in tourism, intra-district connectivity, and Dir's integration with the rest of the province and the country is a big challenge. Tourism promotion in Dir can have a hugely transformative effect. However, in this process, the existing ecosystem must not be further exposed to risks. Unfortunately, large parts of forests have been ruthlessly cut down. Swathes of agricultural land have been consumed by unbridled housing societies. In that sense, in many areas, tourism without planning is proving a curse rather than a blessing. The Government has established Kumrat Development Authority which is a step in the right direction. However, its mandate should cover the whole of Dir. Right now, people in some areas have xenophobic tendencies and are not comfortable with tourist culture. The fragile law and order situation is hindering the exploration of new areas. Extremism and militancy should be curbed with full power with the support of the masses. Without waiting for government intervention everyone should realize his/her own responsibilities and contribute to the promotion of tourism in Dir, which is not just our ancestral abode but also our identity and place blessed with some of God's most beautiful tourist destinations. It is never too late to contribute. Together we can and we should try to make a difference.
Dr. Tariq Ullah is civil servant of KPK.