Late on Friday, Pakistan's Finance Minister Ishaq Dar declared that Pakistan had been awarded $500 million by a Chinese bank. This was part of the $1.3 billion package approved by the Industrial and Commercial Bank of China (ICBC).
The country is currently facing economic challenges like high inflation, declining forex reserves, a burgeoning current account deficit and a weakening currency. Dar announced on Twitter that the ICBC had granted formal approval for the rollover of the $1.3 billion facility, which Pakistan had repaid in recent months.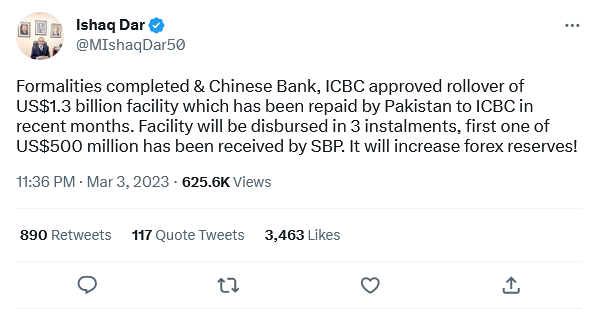 The minister added that the money would be paid in three installments, with the State Bank of Pakistan already having received the first $500 million. He also stated that this would contribute to an increase in foreign exchange reserves.
Read more: